Violin and Viola Coach
Meet HOV Coach: Kat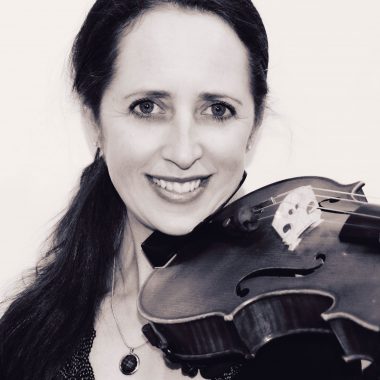 Kat completed her Bachelor of Music Performance in Violin at the Victorian College of the Arts and a Master of Music Studies at the University of Melbourne. Her main goals are to inspire her students to love music. Kat is positive and encouraging towards students of all ages and levels. She guides them to embrace challenges whilst having fun and aim as high as they can.
Kat has over 20 years experience teaching violin and viola from beginner level to AmusA, working with students from 4 years old to 70 years old. She uses a vast range of resources for beginner, intermediate and advanced students along with AMEB syllabi. Kat plays and teaches many styles of string music encompassing baroque, classical, romantic, contemporary/modern, with a few folk and jazz tunes for fun. She is very happy to tailor lessons and selection of books or solo repertoire to the interests and aspirations of each individual student.
Kat is a freelance violinist and has premiered many solo and chamber ensemble works by Australian composers on both violin and viola for groups including the Melbourne Composers League, Forest Collective, Allotropy String Quartet, Opera Scholars Australia, Zelman Orchestra and the New York Tropfest Film Festival. Kat has toured Italy, Austria, Czech Republic and China and often performs as concertmaster, principal violin or viola with Peninsula Chamber Musicians, Australian Discovery Orchestra, Art of Sound Orchestra, Melbourne Musicians and the Australian Composers Orchestra and tutti violin with Melbourne Opera.
Testimonials
"Dear Kat, thank you for being so kind and for always looking after me. I learnt so much from you as a violinist and violist. You always encouraged me to do my best and push my limits. I improved not only my technical work but also my tone colour, performing skills and how to collaborate with other musicians to produce the best possible work." Mona, Violin and Viola
"Dear Kat, thank you so much for your patience, support and the care you show my son. You have nurtured his love for violin" Yayoi, mother of Miro
"Hello Kat, you are an inspiration! A big thank you for giving Cato such a wonderful and rich experience." Erica, mother of Cato
"Dear Kat, thank you very much for giving Joshua a wonder year in violin in 2020." Kenji, father of Josh
"You are the most inspiring teacher that if I ever teach, I want to achieve your insane level of dedication to all you do. Thanks for being a great teacher" Jerome