The HOV Head Start
One thing you can count on is that HOV never underestimates Kids and Teens when it comes to understanding their voice, the body, learning sound/awareness concepts and executing them.
Why continue to pay for singing lessons that seem more like paid sing-alongs or performance/acting classes then actual vocal lessons.
If your child loves music and singing, why shouldn't they have access to the best tools in the fundamentals of breathing, placement and performance education? As well as knowledge of how to sing safely whilst having fun!
At HOV we fuel your child's passion and love for music, develop their knowledge of the voice and the body in singing, build their confidence, mindset and provide performance opportunities to explore what they are learning in lessons!
With the range and scope of HOV tools and techniques, all students are given the opportunity to expand their abilities and musical knowledge, have access to a range of performance certificates and scholarships available within Melbourne to improve their musical opportunities.
HOV has a great understanding of the mindsets of children and teenagers (visit testimonials) and can bring out the best in your child's confidence, vocal/performance potential in a safe and holistic manner. The sense of accomplishment and pride that comes from the progress they make in their singing, often fuels right throughout a students life, making for a more passionate, joyful, connected, confident and creative child/or teen.
VCE Units 1-4 Preparation
HOV is experienced in preparing students for their VCE units 1-2 as well as 3-4
HOV prides itself in:
Having a good understanding of VCE requirements and standard expected
In ability to choose the right repertoire to showcase your voice and get the mark you deserve
The technical components required
Having up to date information on VCE programs and masterclasses beneficial to teacher/student attendance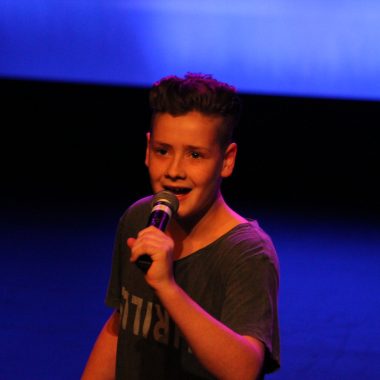 We work with your child and the school to develop the ideal repertoire list, suitable scales and technical material, prepare aural and sightreading and general musicianship.
VCE is an integral part of a students life, and we recognize that students need to have the best available training in which to get the mark that they deserve. Equally HOV students need to be prepared to show good commitment levels, a willingness to learn, extend, participate and show an interest in their own learning, vocal apparatus, technique as well as remaining open to the opportunities available to their preparation.
HOV has an excellent track record in preparing students for their VCE with marks only ever reflecting A+ to B+ averages.
"Alisha has supported and mentored my daughter through some challenging times and her deep understanding and insight into the emotions and workings of teenage girls has enabled their relationship to grow and for my daughter to improve her voice all whilst remaining engaged and passionate about singing"
– Lorraine Harley
Classes Available with HOV
Beginners to Intermediate: 8 years to 19 years old
*No previous musical background required *
A love for music and singing: a must!
Individually structured and customized vocal lessons
Improve your childs confidence, vocal technique, musicianship, acting, stagecraft and vocal range all whilst having fun
Holistic approach which mentors your child to reach their potential
Performance opportunities offered to all ages
Artist Development and Development skills for Songwriting
AMEB/ANZCA/VCE Preparation offered
AMEB Examination Preparation

HOV prepares any student wishing to sit their AMEB (Australian Music Examinations Board) examinations in the categories of: Singing for Leisure, Singing and CPM
AMEB is Australias leading provider of examinations in music, speech and drama which upholds a prestigious history supporting the learning and achievement in music. Students are given the opportunity to advance their learning through this nationally recognized qualification.
Examinations involve presenting vocal pieces, studies, scales, aural tests/sight reading and prepared general knowledge. No matter where the student is at practically or theoretically, HOV prepares students in all areas of the examination.
With commitment and practise students excel their vocal development dramatically.
HOV has an excellent track record in AMEB preparation, with students only ever getting High Distinctions to Credit results.
Note: HOV also prepares students for ANZCA: Australian and New Zealand Culture Arts Limited Examination Board*
"My daughter loves her singing lessons. She loves practicing and she has improved greatly. Alisha has a brilliant skill in teaching and challenging my daughter, whilst having a lot of fun"
– Peta Hall