The House of Voice
Violin Education
It is important to HOV that students have a great understanding of their instrument.
The only way this can be achieved is through in-depth Violin lessons and education centred around the individual.
HOV students learn about the body (whatever the instrument), body awareness, specialised Violin technique, musicianship, stagecraft, retraining of the mind to better influence playing and any blocks getting in the way of our success.
Programs offered for Violin
Individual lessons
Duo Lessons
Ensemble Performance Projects
HOV students will learn
The development of fundamental skills that will allow you play in a wide range of styles
Thorough knowledge of music theory and how this applies specifically to Violin
Violin and Music Theory
Solo and ensemble/group performance skills
Ensemble skills
Reading standard music notation
Performance Preparation
How to successfully sustain yourself as a performing musician
AMEB & VCE Exams
Auditions and Scholarship Preparation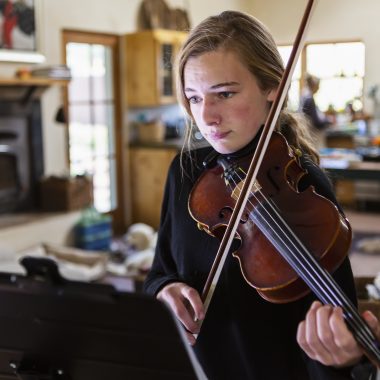 Goal Setting at HOV
It is a compulsory practice for students to set goals as part of HOV Goal Program
Whether you are just beginning or you are a seasoned performer, it is important to not only direct your focus, but to continue to evolve and challenge yourself as a Violinist and individual.
In your first lesson at HOV, goals will be set and over weeks monitored.
Every term students touch base on these goals, rework and add so as to continually evolve and stay on track in the areas of technique, performance, mindset and performance practise.
Contact us for more information on the range of Violin lessons we undertake or for local suburbs we service throughout Melbourne such as Hughesdale, Caulfield, Brighton, Malvern, Carnegie and all South East Suburbs in person or nationally online. For more information contact us today.