Cello and Strings Teacher
Lily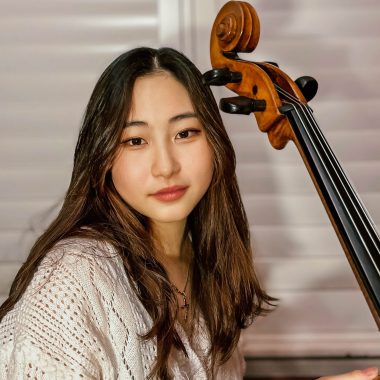 Lily is a bright and fun teacher who thrives off keen students and fosters a positive learning
environment. Lily likes to guide students to improve in all areas of music learning as well as
working around what the student would like to improve on – whether that is basics, reading
music, method of practice, achieving grades and competitions or learning a specific piece for fun.
Lily is very flexible in adjusting to the students needs and has multiple methods of
approaching obstacles to adapt to the students way of understanding. Lily likes to focus on the posture for beginner students to prevent injury and avoid room for habits that can limit your playing. Yet believes it is extremely important to have fun and be entertained in lessons to motivate students to practice and enjoy playing the cello!
Growing up in a musical family, Lily's father and brother were pianists and mother a singer, Lily was brought up surrounded by music. Beginning playing the piano at the age of 3 and cello at 5. Lily began learning the cello under her father and studied under two senior lecturers at the Sydney Conservatorium – Georg Pederson at the age of 9 and Susan Blake at the age of 12. Throughout these years she was part of the Rising stars program at the Sydney Conservatorium as a scholarship holder for 9 years where Lily studied music theory, musicology and performance under the
mentor Joy Lee. Lily later found herself participating in the Tchaikovsky Cello competition in Russia at 13 years old and later won the Robinson Barbara award at the Ku-ring-gai concerto competition. Additionally in her teenage years, Lily completed her AMEB LmusA diploma in cello with distinction which very few manage at such a young age.
Lily has played for many ensemble groups such as small chamber groups, symphony orchestras, string ensembles and musical theatre productions, some including Les Miserables and the Addams family. Through these ensembles she experimented with many different genres of music such as jazz, pop, classical, folk, musical theatre,electronic music and film music.
Additionally, Lily has also worked with composers Ella Macens and Paul
Jarman which assisted Lily in composition and allowed her to learn and premiere some of their works. Later being chosen to travel to Japan and Germany for 5 weeks to participate in various musical events where she learnt the different approaches and cultures of music.
Lily entered tertiary studies as a scholarship recipient at the world famous Juilliard School of Music, majoring in cello under the guidance of Richard Aaron and then later at Melbourne Conservatorium studying under Richard Narroway.